Now all of us are well-acquainted with the fact that Google is quite frequent to make changes in its search algorithm. On March 7th/8th, a large number of website owners and digital marketing firms noticed some significant changes in their rankings and traffic. While some businesses remained so unaffected with such changes that they follow the same SEO strategy for their firms while others needed to reconsider and rebuild their digital marketing strategies. And all these happened due to Google's new algorithm update – mostly known as 'Fred'.
What is Fred Algorithm Update?
Google always seals its lips about making any changes in its algorithm. On March 8th, the digital industry faced a swift and fierce challenge after the rolling out of an unconfirmed update from Google. Many affected sites suddenly found a 90% drop in their traffic as per punishment by Fred update.
Ultimately, this unconfirmed 'update' was confirmed by Gary Illyes, the Webmaster Trends Analyst of Google –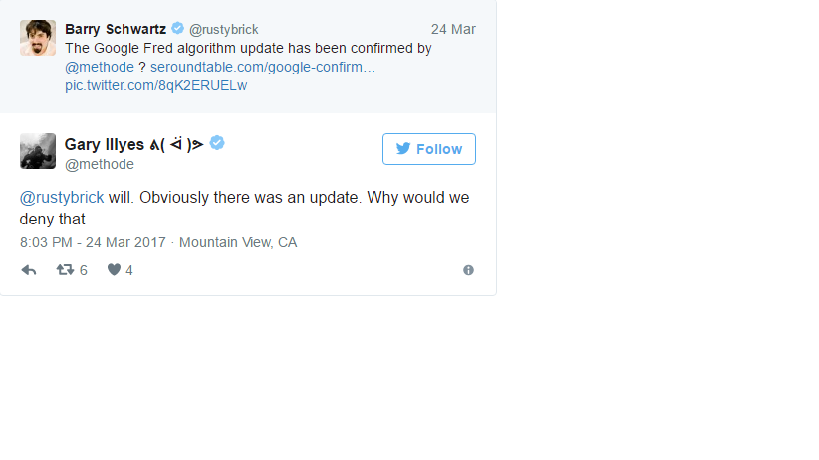 Obviously, everyone was inquisitive why it has been named Fred. And here is the answer –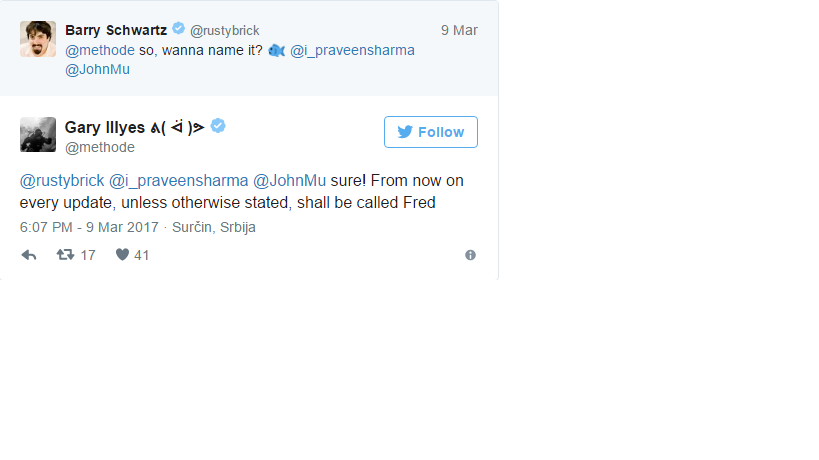 As per the reports from several SEO firms, Fred particularly punished low-quality, excessive ad-loaded websites with thin content and poor backlinks. Due to this update, the websites that have utilised SEO services for building low-quality content and backlinks in hurried process have been heavily affected.
What Kind of Sites Were The Target of Fred Algorithm Update?
As per the research of Barry Schwartz published on Search Engine Land, about 95% of the websites that got affected by this update, had similarity in content that "look[s] to be written for ranking purposes and then has ads and/or affiliate links sprinkled throughout the article… they seem to have content on a vast array of topics that are not adding all that much value above what other sites in the industry have already written."
The key reasons for facing punishment by Fred algorithm update are –
Low-Quality Content
One of the sure-fire reasons for punishment by Fred update is publishing content lower in quality. In fact, Google considers the low quality content as offense that can result in degrading the ranking of a website. Usually, the pages with keyword stuffing, unnecessary usage of keyword inside the content that seems almost unreadable or nonsensical, short, ambiguous and unoriginal content are the examples of low quality content. In addition, refurbishing content from different websites is also considered as low-quality.
Heavy Advertisements
After the introduction of Fred updates, one of the most affected websites are those that contain massive amount of advertisements. Usually, the sole reason for existence for these websites is revenue generation. Many of these websites contain content wrapped with advertisements. Those ads often appear inside the content, especially in between the paragraphs.
Now, Google considers such websites as spammy as they are unable to give cleaner and better navigating experience to the users. Of course, the monetising the content has not been considered as offense when the content appears information, original and useful for the users. But making profit from the advertisement without offering anything innovative for the users is considered as punishable offense by Google.
Unoriginal Affiliate Programmes
There is no denial of the fact that an affiliate programme is an essential part for promoting and marketing the websites as you can list sales, deals or offers through the affiliate ad network. Google does not find any offense in becoming the part of such affiliate programme. However, when a website aims at only revenue generation with the help of unoriginal and unhelpful affiliate programmes, Google Fred update may penalise it.
How To Save Your Website from This Punishment?
According to the report published on SEO Roundtable by Gary Illyes, the sites that do not follow the guidelines, are likely to suffer. To avoid this punishment:
• Create high-quality and related content to help the users and readers
• Avoid deceiving the uses with counterfeit ads published on the site
• Avoid overloading the sites with too many ads or affiliate links
• Remove the spammy and unnatural backlinks
Of course, the websites that follows the fair digital marketing strategies as per the guidelines by Google do not need to worry about this punishment by Fred update.